We understand that plans change and you may need to edit your upcoming stay. No problem! If you need to change dates or modify pets for a booking, you can contact the sitter through Rover Messages to request a booking modification.
If they agree to the changes, they can update the booking for you. In this article we'll go over:
How to contact your sitter
How to accept the modified booking
How price adjustments are reflected in the booking modification
To contact your sitter:
1. Sign in to your Rover account and navigate to your Inbox by selecting the envelope icon.

2. Select the Upcoming Stays tab and then select the request you want to modify.

3. Send a message to your sitter and specify the changes you want to make to the booking. If the sitter can accommodate your changes, they'll modify the booking from their account.
Note: If you're adding any new pets to the booking, they must have a Rover pet profile first. To learn how to create one, check out this article.
Accepting modifications to a booking
Once the sitter updates the booking, you'll receive an email to confirm the changes. You have 72 hours to accept the changes. You can do this from the iOS app or your computer.
Rover app
Tap

Inbox

at the bottom of your screen.

Tap the request that's being modified.

Tap

Details

, then tap

See requested changes

to review the modification request.

Navigate back to your conversation with the sitter and tap

Accept

to confirm the request.
Computer or mobile browser
Sign in to your Rover account and navigate to the booking modification you requested.

Locate the gray box that lists your service details and review the changes.

If everything looks good, click the green icon to accept the changes.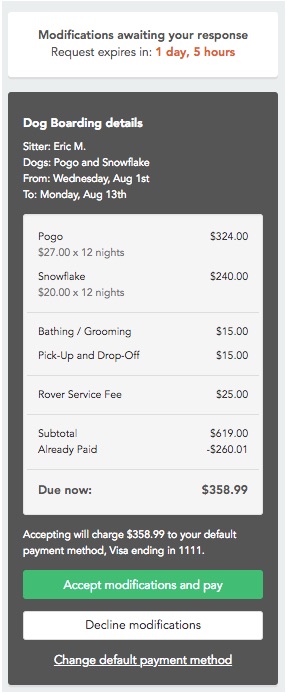 If the modification request is different than what you discussed with your sitter, contact your sitter first. If the request needs to be declined, select Decline modifications. The service will remain booked, but the proposed modifications will not be applied to the booking.
Price adjustments
If a modification leads to an increase in cost, you'll see an additional amount in the Due now section.
If the modification results in a refund, then the funds will be returned within 5 - 10 business days in the original form of payment. Any promo or gift card funds will be available to use immediately.
Note: Refunds may take longer depending on your bank's processing times.