Your dog is a member of your family, so finding a sitter or dog walker who's the right fit for that majestic, furry weirdo in your life is key. Always go with your gut. Whether you're just getting the conversation started or you've already had your Meet & Greet, you're the best person to decide who the right sitter or dog walker is for your dog.
For example: You have an older dog who likes to take it easy. At your Meet & Greet, the sitter mentions taking their Rover dogs hiking. You could respond with, "You seem like such a caring sitter, but I think Buddy needs someone with a more laid-back lifestyle."
See related articles for more on how to find the right sitter or dog walker for your dog.
Have a difficult Meet & Greet experience? We want to know!
Send us your feedback: contact Rover support
How to Cancel a Booked Service
Did you book a service and now need to cancel? No problem.
1. Navigate to your Inbox by selecting the envelope icon.

2. Select the Upcoming Stays tab and then select the request you want to cancel.

3. Once the request is open, locate the gray box that lists your service details. Select Modify or cancel.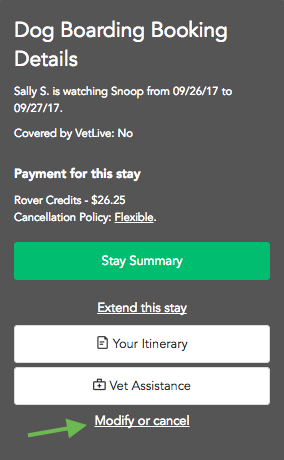 4. Select Cancel.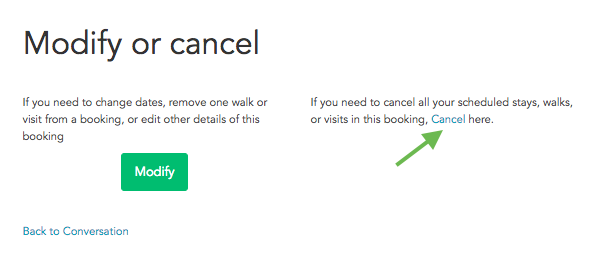 5. A pop-up form will ask you to give some details about why you're canceling. This message goes directly to Rover Support and will not go to your sitter. Select Submit Request.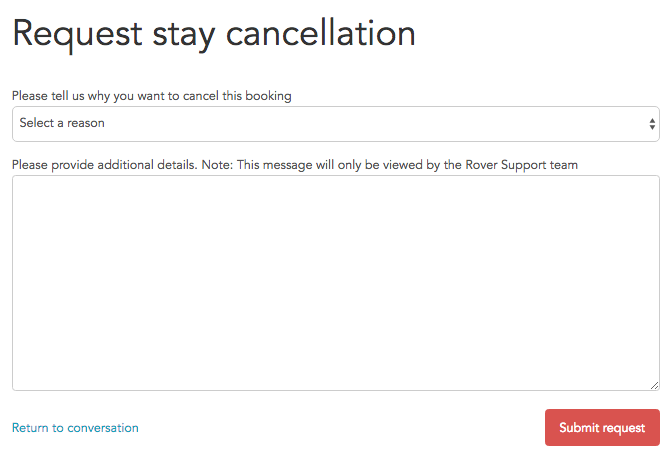 6. Select Yes, I want to cancel.

Your cancellation will then be processed by our support team. Learn more about this topic in the Payments section.