To help you keep your calendar up to date, every Monday we'll send you a text message asking you to confirm your availability for the upcoming weekend if you haven't confirmed your availability yet. Here's a look at the text:
Rover: Get more requests you can accept. Reply "Y" if you're available this upcoming weekend (Thu. Jan 25 to Sun. Jan 28) and "N" if you're not.
If you reply "N" we'll mark your calendar as unavailable for the weekend, so you won't be burdened with requests you can't accept.

If you reply "Y"

all of your services will be marked as available for the upcoming weekend (Thursday - Sunday). Additionally, you'll also get a banner in search highlighting your availability!
How to Opt-out
If you'd like to opt-out of receiving these reminders, simply text back "stop."
You can also opt-out by adjusting your notification settings in your account. Here's how:
1. Navigate to your settings by selecting your name in the upper right corner of the screen. Select Settings.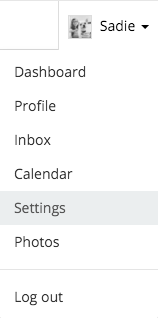 2. Select Notifications.
3. Beneath Mobile, toggle the Remind me to update my calendar circle on the right to grey.
4. Select Save Settings on the bottom of the page.